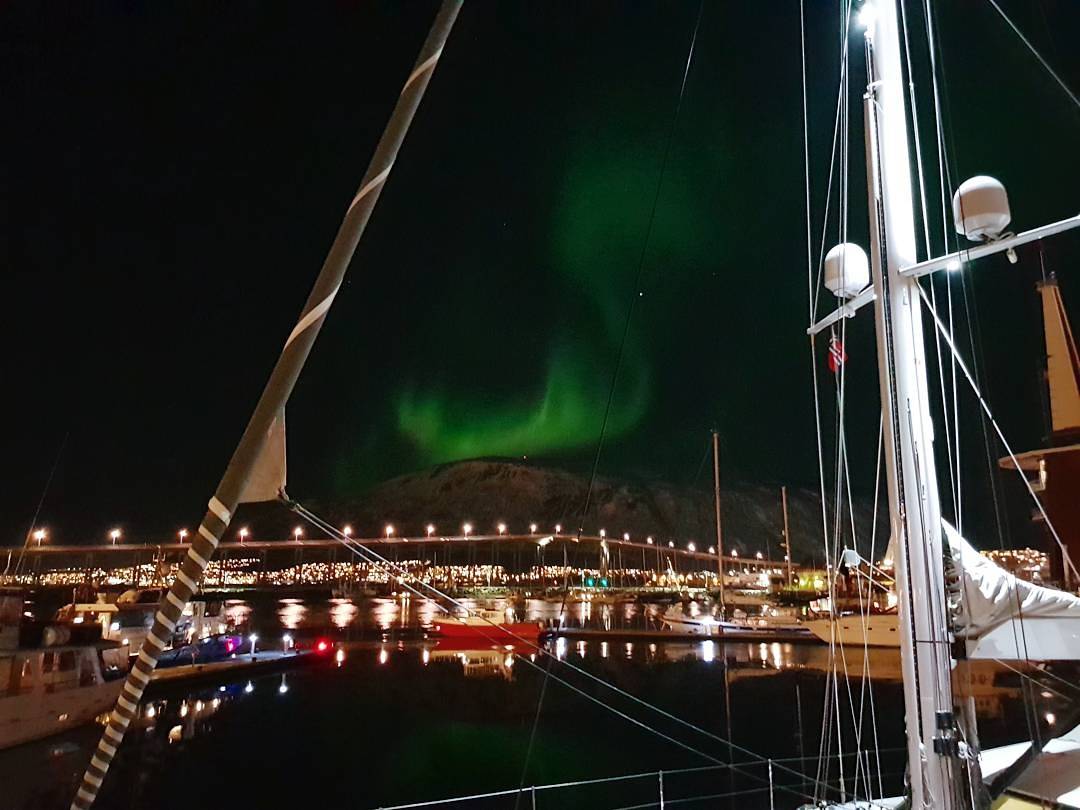 And so the second leg of the sail to the Arctic commenced..
Firebird and team were met with a messy sea state and 30 knots of wind as they took their punt with the North Sea. Thankfully with reef 3 in the crew held fast amongst the oil rigs and low flying helicopters and made ground, hopping over towards the Norwegian coastline.
36 hours down, having downloaded the latest grib file, Ollie made the call to duck in to Bergen in order to reset and allow an angry weather front of 60 knots pass and chaotic swell to die down. It also gave the crew a chance to eat a hearty meal without the risk of breaking waves into their bowls or walking up the bulk heads as they had been!
After meeting with Christoffer, Superyacht Services, to extend our thanks to them for their support in Norway from the 2017 season and for their continued help into this year the team set sail once again.
Fortunately the team made good progress with an average of 11 knots boat speed. As they approached the arctic circle, with layer upon layer of gear being added each watch as the temperatures started to reach sub zero until a steady minus eleven seemed the standard.
Once they had crossed the famous 66°33.00'N the team fell into a 2 hours on, 4 hours off watch pattern to attempt to stave off the cold and keep alert as the navigation picked up entering the fjords.
Firebird entered Tromso with the last segment of daylight mid afternoon 8 days after leaving Ipswich, just allowing the team enough time to wash the salt water off the deck before the risk of an ice rink! To top it all off for their efforts the team were treated to a vivid display of the aurora borealis in the evening. Not bad for the first day on station!
3385 NM done from the Mediterranean to the Arctic, its finally time for Ski and Sail 2018 season to start!!
We still have a some dates available so if interested please don't hesitate to contact charter@firebird-yachting.com!